Case Report
Volume 3 Issue 1 - 2021
Descemetocele in Axenfeld-Rieger syndrome: An unusual presentation
Dr Rajendra Prasad Centre for Ophthalmic Sciences, All India Institute of Medical Sciences, New Delhi, India
*Corresponding Author: Dr Noopur Gupta, Dr Rajendra Prasad Centre for Ophthalmic Sciences, All India Institute of Medical Sciences, New Delhi, India.
Received: May 19, 2021; Published: July 05, 2021
Keywords: Axenfeld-Reiger syndrome; Descemetocele; Anterior segment dysgenesis
A 32-year-old male, presented to our facility with descemetocele in the right eye with best corrected visual acuity (BCVA) recorded as finger counting close to face. An unperforated descemetocele (2.5 mm diameter), located at the temporal edge of a leucomatous corneal opacity (Figure 1A), was managed with a bangage contact lens placement performed under systemic antiviral therapy. Patient responded well with BCVA of 6/36 with contact lenses, on 6th week follow-up. The left eye demonstrated features of polycoria, iris hypoplasia, bridging iris strands, a vascularised corneal opacity, posterior embryotoxon (Figure 1B), iridocorneal synechiae (on gonioscopy) and systemic features—microdontia, midfacial hypoplasia supported the diagnosis of Axenfeld-Reiger syndrome (ARS). [1,2] ARS is known to have associations: glaucoma, aniridia, microcornea. [3–5] Descemetocele is an unreported finding in ARS. A possible viral etiology helps explain few features of corneal and iris involvement in ARS. [6]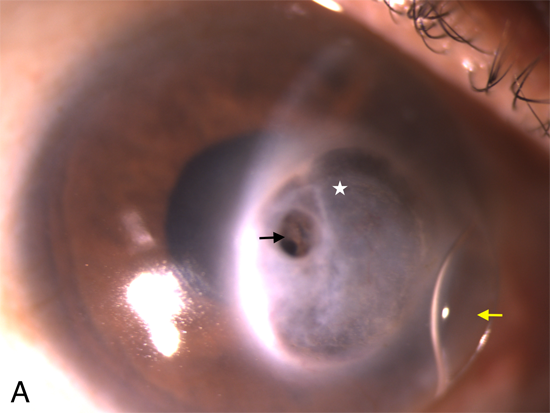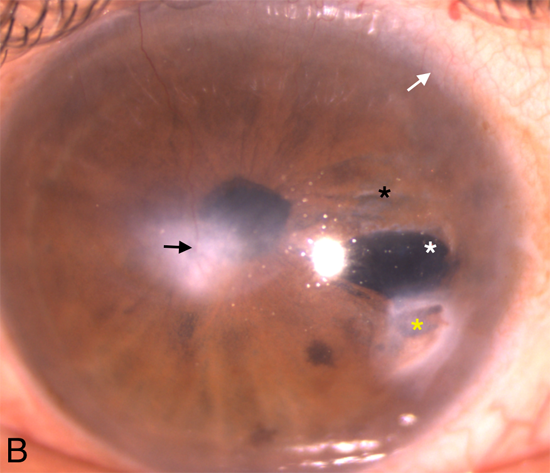 Figure 1: Axenfeld-Rieger syndrome presenting with (A) Right eye: descemetocele (black arrow) seen at the temporal edge of leucomatous corneal opacity (white star), which was managed with bandage contact lens placement (yellow arrow) and (B) Left eye: Polycoria (white asterisk), iris hypoplasia (black asterisk), iridocorneal adhesions (yellow asterisk) and posterior embryoton (white arrow) and vascularised corneal opacity (black arrow).
Financial Support: None
Conflict of Interest: No conflicting relationship exists for any author.
References
Citation: Yogita Gupta, Noopur Gupta, Radhika Tandon. (2021). Descemetocele in Axenfeld-Rieger syndrome: An unusual presentation. Journal of Ophthalmology and Vision Research 3(1).
Copyright: © 2021 Noopur Gupta. This is an open-access article distributed under the terms of the Creative Commons Attribution License, which permits unrestricted use, distribution, and reproduction in any medium, provided the original author and source are credited.