Research Article
Volume 2 Issue 1 - 2020
Receptol® Oral Spray Shield for Coronavirus Proposed Treatment & Prevention as Demonstrated in Aids
MS, Ph.D. (West Virginia Medical Center) Founder CEO: Biomix Network Inc. USA & Biomix Network Limited
*Corresponding Author: Pawan Saharan, MS, Ph.D. (West Virginia Medical Center) Founder CEO: Biomix Network Inc. USA & Biomix Network Limited.
Received: February 27, 2020; Published: March 06, 2020
A new coronavirus, declared as Global Health Emergency (PHEIC) by WHO, 2019-nCoV was first identified in Wuhan, the capital of China's Hubei province, after people developed SARS like pneumonia. The incubation period (time from exposure to the development of symptoms) of the virus is 2-10 days and can be contagious during this time. Symptoms include fever, coughing, and breathing difficulties. Without a clear cause of 2019-nCoV, treatments with existing vaccines is not effective.
1st PHEIC was declared by WHO for Swine Flue (H1N1 Influenzas) in 2009 with 284,500 death with 763 million cases reported in 214 countries and was successfully contained by Receptol® used at 3 domestic & international airports in Mumbai by Mumbai International Airports Ltd. The Patented Receptol® oral spray (USA Patent # US 9,249,188 B2) is a new Immunity Drug (NID) providing mode of action in a vaccine like manner with active immunity, can bInventor's biography
Dr. Pawan Saharan, with a vision to provide Health for all, Invented World's 1st Immunity Enhancement Drug to treat HIV and host of other Immunity problems via Broad Spectrum Antiviral and New Generation Immuno-modulator- RECEPTOL®.
Prestigious Who's Who American Historical Society (Boston) nominated Dr. Saharan as a World Leader in healthcare industry responsible for changing the destiny of nations & human race via the creative contribution in the healthcare sector via Receptol that builds body's own immune system, providing hope to most disenchanted terminally ill patients globally.
Dr. Saharan has global experience in running healthcare industry, including the Pharmaceuticals MNCs and hospitals at the top management level in India & USA.
Dr. Saharan created the first truly Nano-Bio-IT Helix via inventing Radha 108 Nano-Peptides for AIDS therapy : RECEPTOL® along with reusable micro-chip diagnostics for AIDS, Cancer, TB and other infections, costing a fraction of current tests creating a paradigm shift in healthcare & bringing smile on Billion Faces who could not afford modern treatment.
Late Dr. Abdul Kalam, former President of India, nominated Dr. Saharan for India's new drug discovery with a funding of Rs 120MM (US$ 3MM), by Dept of Science & technology, Govt. of India.
Dr. Saharan has a Ph.D. Major in Medicine West Virginia Medical Center, USA & topped First Rate Jawaharlal Nehru University in New Delhi while pursuing Master in Life Sciences and has several International Publications / Presentations including in Top Scientific Journal_ Nature. Dr. Saharan has organized several global conferences and lead the Global Impact of Nanobiotechnology in Healthcare.
Canadian and UK Govt. invited Dr. Saharan as the state guest in recognition for his contribution to healthcare and technological alliances between North America and India via Canada India Business Council.
UK Prime Minister invited Dr. Saharan in March, 2011 as a key note speaker at the UK India Business Council for the key note address on affordable health care. ? American Association for the Advancement of Science (AAAS), Washington DC nominated Dr. Saharan for the best US Graduate Student Scientist Award. E used for treatment and as preventative vaccine in dealing with current 2019-nCoV epidemic. Receptol® consists of cell to cell communicator Nano informational peptides (Radha108) & proline-Rich Polypeptides (PRPs) from colostrum, Mother's 1st milk after the birth of the child or calf.
Numerous Studies have shown that Receptol® spray will deliver nanopeptide crossing blood brain barrier and have great effectiveness in treating many immunity diseases including all viral infections. As a natural product, Radha-108 Nanopeptideshave no side effects which can be taken safely by all age and are not species specific.
Receptol® showed great effectiveness in treatment of retrovirus such as HIV, Swine Flu and SARS like conditions caused by Coronavirus. An accelerated, prospective Phase III global efficacy and safety studies for Receptol® (containing API of Radha 108 Nanopeptides) was conducted for HIV Positive patients with 10 years follow up showed significant resolution of all symptoms and pharmacological effects with low to NILL Viral Load.
Once RADHA108 series get absorbed in the blood stream through buccal mucosa or transdermal route and crosses the Blood Brain Barrier (BBB), they act on Pituitary gland in brain and cell to cell communicator and informational proteins (RADHA108) in RECEPTOL® will active in mitigating cell fusion. RADHA108 series has shown to dock on glycoprotein receptor on the cell surface and thus closing doors and windows for viral entry into the cell surface & immune cells in particular.
Coronaviruses is enveloped positive- RNA viruses characterized by club-like spikes that project from their surface. It has unusually large RNA genome, four main structural proteins. Spike (S), membrane (M), envelope (E), and nucleocapsid (N) proteins as virus particles. S protein is cleaved by a host cell furin-like protease into two separate polypeptides noted S1 and S2. The initial attachment of the virion to the host cell is initiated by interactions between the S protein and its receptor. The S-protein/receptor interaction is the primary determinant for a coronavirus to infect a host species and also governs the tissue tropism of the virus. Receptol® nano-peptides can block the attachment of S protein like in case of well-studied mode of action in treatment of retrovirus infection such as HIV.
Receptol® oral spray invented via Dr Pawan Saharan, Founder, Biomix USA, Australia and INDIA (
www.biomix.in
) can be an answer to prevent & treat current epidemic of 2019-nCoV as its Mode of Action is similar to that of AIDS for which global studies with 10 years follow is done.
Receptol®'s RADHA108 series nano-peptide will not only dock on S glycoprotein receptor on the cell surface to mitigate cell fusion closing doors and windows for all viral entry but will also stimulate the maturation of immature thymocytes into either helper or suppressor T cells, T help cells will help produce antibodies against 2019nCoA, Suppressor T cells, on the other hand, deactivate other lymphocytes after an infection has been cleared to avoid damage to healthy tissues. Receptol® will help to produce memory T cells, in order to expedite the production of antibodies for future infection in all human hosts.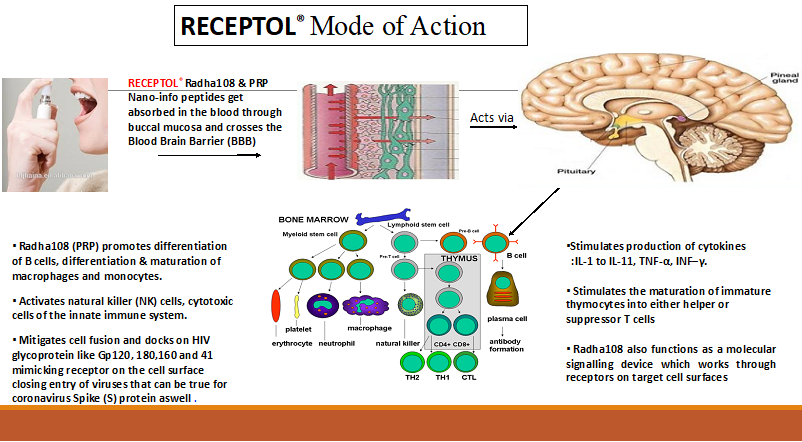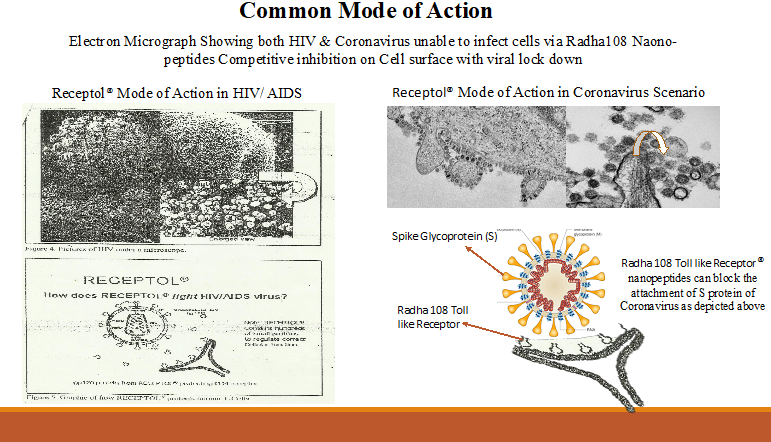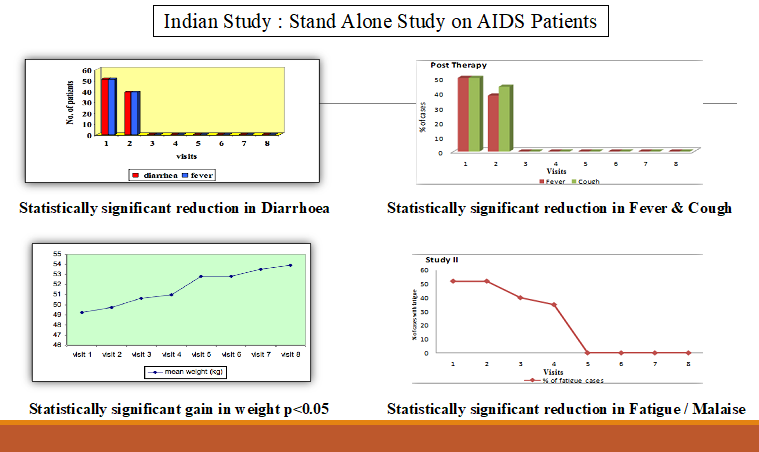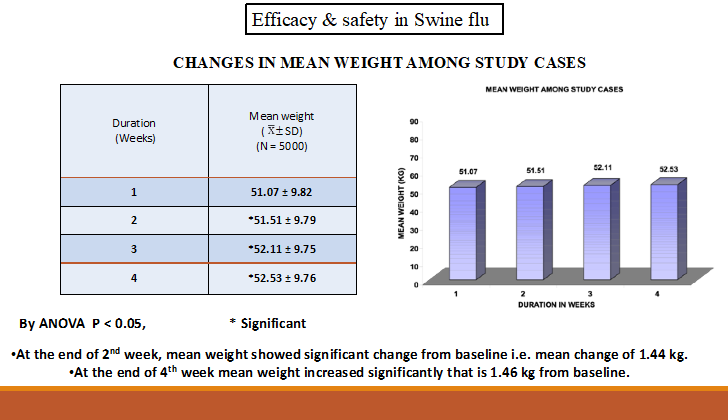 Phase III Indian Safety & Efficacy Mono Therapy Clinical Trials- with Radha 108 Nano Peptide by Government of India, Ministry of Health/National AIDS Control and Monitored by Indian Council of Medical Research/NARI* by US PATH accredited org.
Study I: 50 HIV Positive Patients at Tertiary Care LTMG Hospital Sion, Mumbai (Clinical trial registry No. : CTRI-2012-08-002931)
Study II: 51 HIV Positive Patients at Tertiary Care LTMG Hospital, Sion, Mumbai (Clinical Trial registry No. : CTRI-2012-09-002959)
References
Saharan P. Mammalian Colostrum derived nanopepteides for broad spectrum viral and recurrent infection with a method of isolation thereof. Patent submitted to Indian Patent office, 2007.
Saharan P. Mammalian Colostrum derived nanopepteides for broad spectrum viral and recurrent infection with a method of isolation thereof. (US patent no US 9, 249,188 B2, Date of patent: Feb. 2, 2016)
Health for all via Receptol-A Paradigm shift in healthcare: " treatment to prevention" Book released by Health Minister of India, Sept 2014
Janusz M, Staroscik K, Zimecki M, Wieczorek Z, Lisowski J. (1986). A proline-rich polypeptide (PRP) with immunoregulatory properties isolated from ovine colostrum. Arch Immunol Ther Exp (Warsz)34(4): 427-436.
Wieczorek Z, Zimecki M, Spiegel K, Lisowski J, Janusz M. (1989). Differentiation of T-cells into helper cells from immature precursors: identification of a target cell for a proline-rich polypeptide (PRP). Arch Immunol Ther Exp (Warsz) 37(3-4): 313-322.
Bishop GA, Haxhinasto SA, Slunz LL, Hostager BS. (2003). Antigen-specific B-lymphocyte activation. Critical reviews in Immunology. 23(3): 159-197.
Shi M, Hao S, Chan T, Xiang J. (2006). CD4+ T cells stimulate memory CD8+ T cell expansion via acquired pMHC I complexes and costimulatory molecules, and IL-2 secretion. J Leuco Biol, 80(6): 1354-1363.
Zimecki M, Staroscik K, Janusz M, Lisowski J, Wieczorek Z. (1983). The inhibitory activity of proline-rich polypeptide on the immune response to polyvinyl pyrrolidone (PVP). Arch Immunol Ther Exp (Warsz); 31(6): 895-903.
Julius MH, Janusz M, Lisowski J. (1988). A colostral protein that induces the growth and differentiation of resting B lymphocytes. J Immunol, 140(5): 1366-371.
Kubis A, Marcinkowska E, Janusz M, Lisowski J. (2005). Studies on mechanism of action of a proline-rich polypeptide complex (PRP): effect on the stage of cell differentiation. Peptides, 26(11): 2188-2192.
Anthony R. Fehr and Stanley Perlman. Coronaviruses: An Overview of Their Replication and Pathogenesis PMCID: PMC4369385
Citation: Pawan Saharan. (2020). Receptol® Oral Spray Shield for Coronavirus Proposed Treatment & Prevention as Demonstrated in Aids. Journal of Biotechnology and Immunology 2(1).
Copyright: © 2020 Pawan Saharan. This is an open-access article distributed under the terms of the Creative Commons Attribution License, which permits unrestricted use, distribution, and reproduction in any medium, provided the original author and source are credited.